Share this post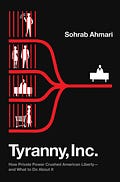 Tyranny, Inc.
tarahenley.substack.com
Tyranny, Inc.
My conversation with the American author and editor Sohrab Ahmari
In the past few decades, something has gone wrong in American life, leaving its citizens subject to increasing levels of coercion.
That's the thesis of a new book, and its author, my guest on today's program, argues that what's gone wrong is a form of private tyranny, with corporations exercising more and more control over ordinary people's lives — eroding our freedoms and generating uncertainty, stress, and economic precarity. 
Sohrab Ahmari is a founder and editor at Compact Magazine. His new book is Tyranny, Inc. — How Private Power Crushed American Liberty — and What to Do About It.
Sohrab Ahmari is my guest, today on Lean Out. Transcript to come for paid subscribers.
Lean Out with Tara Henley is a reader-supported publication. To receive new posts and support my work, consider becoming a free or paid subscriber.