Discover more from Lean Out with Tara Henley
A current affairs newsletter, focusing on heterodox writers and thinkers from around the world.
Weekend reads: Rebels with a cause
Amy Poehler's agitprop, wokeness killing comedy, wrongthink in dance - and other tales of ideological capture in the arts. (Plus, my essay on women and cancel culture)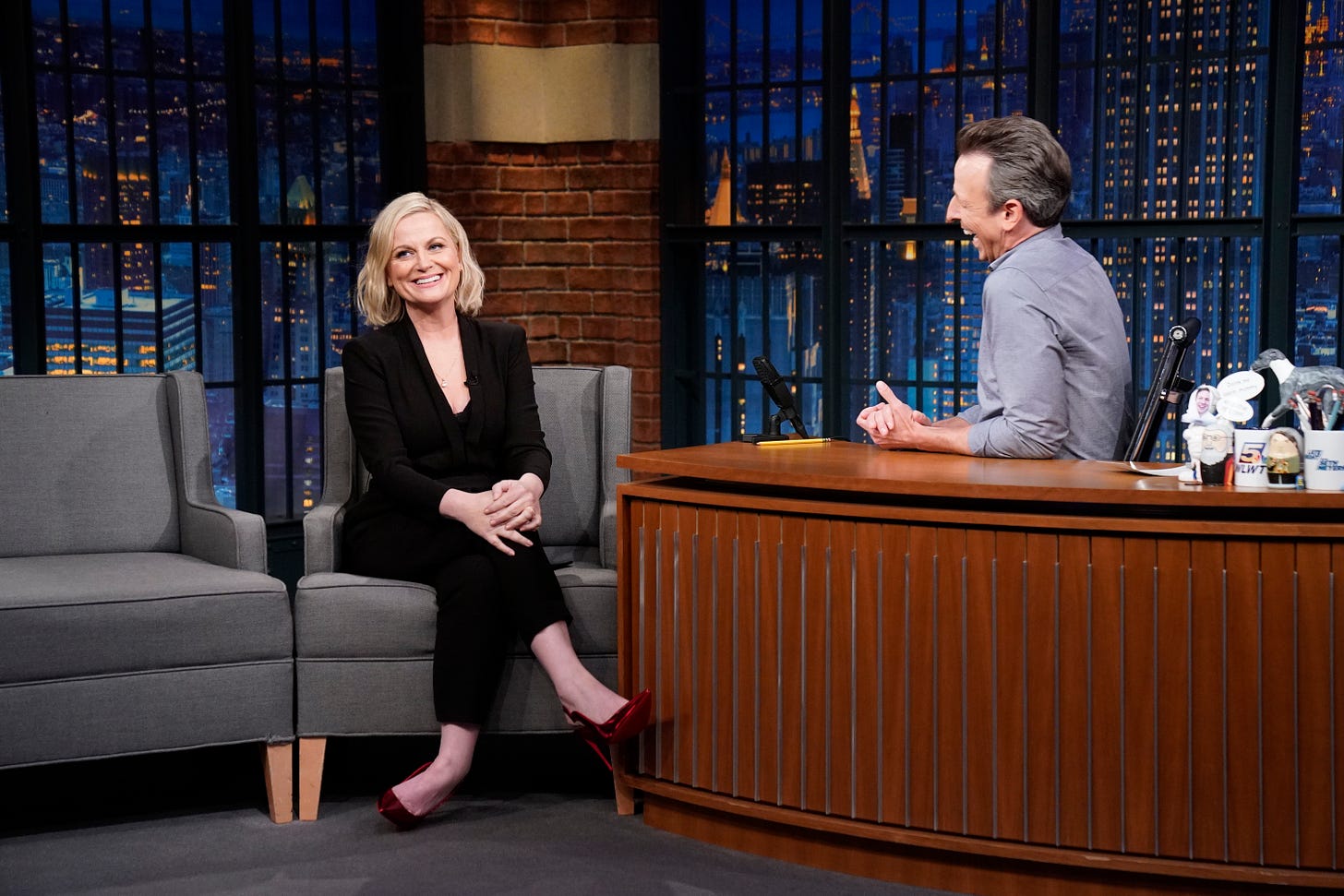 It used to be that when life got stressful, I could turn to art.
I could immerse myself in a work of literature, and be transported to a different state of being. I could sit in a dark cinema and take in an achingly beautiful film, and get lost in the alternate reality on the screen. I could dance in my kitchen to loud rap music, tapping into previously undiscovered reserves of tenacity and hope. I could visit an art exhibit and gaze at the wildly original painting in front of me, and feel energized by its daring. I could go to a comedy club and commune with the crowd, enjoying a collective release through laughter — and arriving at new insights about our culture and how it operates.
Always, I would emerge from such experiences revived. Refreshed. Restored. Such moments offered a kind of healing balm for the grief of being human.
But these days life is more stressful, for all of us. And the world of creativity is far less, well, creative.
I'm certainly not the first to observe that today's art is often dull and dogmatic. Art today seems to exist as a vehicle for disseminating the preferred values and viewpoints of elites. In other words: Art exists, now, to teach us a lesson.
I was reminded of all of this the other night, when I made the mistake of streaming Amy Poehler's cringeworthy female empowerment film Moxie. The Guardian calls Moxie "a forthright but fun #MeToo drama," while Variety praises it for its "refreshingly inclusive political values." This should tell you all you need to know.
The hackneyed coming-of-age tale follows a restless teen spurred to action by her Gen X riot grrrl mother, who tells her, "When I was 16, all I cared about was smashing the patriarchy and burning it all down." The teen has a feminist awakening, publishes a 'zine, and sparks a protest movement at her school. Moxie is basically what happens when a group of Extremely Online writers throw every "woke" cliche they can think of into a hat, shake them all up, and then toss this word salad onto a script.
The film is so insipid, I was astounded it even got made. Let alone by a comedian.
Which brings me to something that's been puzzling me for some time now: Why, exactly, do so much of the arts and entertainment suck so much these days — and why does everyone pretend that they don't? (Feel free to drop your theories in the comments section.)
Thankfully, Lean Out's next podcast guest sheds some light on this issue, in the new documentary series that she hosts.
Nadine Strossen, former head of the ACLU, will be honoured with the Judy Blume Lifetime Achievement Award for Free Speech tomorrow in New York at the National Coalition Against Censorship's annual benefit. Marking the moment, Strossen returns to the Lean Out podcast this week to talk about her new book, Free Speech: What Everyone Needs to Know, and new doc series, Free To Speak.
The series includes an incredible episode about free speech and art (see below).
"If we limit the freedom of artists, art easily collapses into what has been called kitsch, what has been called propaganda," art historian Aya Soika says during that program. "Freedom of expression is one of the ingredients that makes a good artist."
Hearing that, it suddenly became clear to me: Good art cannot exist without room to experiment and, critically, room to offend. Good art cannot be created in censorial environments. Creativity naturally involves taking risks. And in eras like ours, that tend to punish risk-takers and dissidents, art falls flat.
This is exactly what is wrong with a lot of contemporary Canadian literature, for instance. And it is also what's wrong with a lot of comedy.
---
As it turns out, these very issues were debated recently at my favourite comedy club in New York, the Comedy Cellar. The "Is Wokeness Killing Comedy?" event pitted comedian and actor Michael Ian Black against Lou Perez, comic and author of That Joke Isn't Funny Anymore. ("I made the mistake of saying F-you, before I had F-you money," Perez quipped at one point. A few of us can probably relate!)
The debate, moderated by Reason Magazine's Nick Gillespie, is well worth a watch — particularly for the reference at the end to none other than Nadine Strossen.
And while we're on the topic of freedom of expression and the arts, I should also let you know that we have the British dancer and choreographer Rosie Kay on the podcast in coming weeks. After being cancelled by her own dance company, Kay has launched not only a new troupe — but also a new organization, Freedom in the Arts, to support artists in our current "culture of fear and intimidation."
I'm looking forward to that conversation. In the meantime, here Kay is, interviewed by Lean Out guest, and comedian, Andrew Doyle.
---
---
Speaking of women getting cancelled, this week I was thrilled to publish a new essay, "Transcending Toxic Femininity: Women, Cancel Culture, and An Appeal to Our Higher Selves," in the feminist journal Fairer Disputations.
Fairer Disputations is the online journal of the Wollstonecraft Project at the Abigail Adams Institute in Cambridge, headed up by the American legal scholar and Lean Out podcast guest Erika Bachiochi, host of the recent Rethinking Feminism panel at Harvard, which featured Lean Out guests Christine Emba, Washington Post columnist and author of Rethinking Sex; Louise Perry, author of The Case Against the Sexual Revolution; and Mary Harrington, author of Feminism Against Progress.
Here are the first two paragraphs of my new essay:
In early 2020, Jeanine Cummins appeared to be on the brink of literary stardom. Her new commercial thriller, American Dirt, was one of the most anticipated books of the year. The novel highlights the border crisis, painting a gut-wrenching portrait of a Mexican mother and son fleeing a drug cartel. It sparked a bidding war, earned effusive praise from literary luminaries, and was selected for Oprah's Book Club. But in the leadup to its publication, author Myriam Gurba published a scathing review, accusing Cummins—who is Irish, with a Puerto Rican grandmother—of cultural exploitation, and of trafficking in "trauma porn" and negative stereotypes. An online mobbing followed, with an open letter from writers urging Oprah Winfrey to withdraw support. Cummins's book tour was cut short amid safety concerns, and the book's publisher issued an apology. "It was a witch hunt," the novelist Ann Patchett, with whom Cummins was staying at the time, told The New York Times. "The fall that she took, in my kitchen, from being at the top of the world to just being smashed and in danger—it was heartbreaking."

Months later, in May of 2020, it was New York Times food columnist Alison Roman in the crosshairs. In the early months of the pandemic, Roman had become a big star. A proponent of unfussy home cooking with a knack for coming up with wildly popular recipes, Roman had already been made a target for her viral stew, which some argued was in fact a curry, and thus constituted cultural appropriation. Then, in an interview, Roman criticized two Asian lifestyle icons, Marie Kondo and Chrissy Teigen, for launching product lines. The online backlash alleging racism was ferocious, with Roman lamenting the female bullying on display. ("Oh please," author Lauren Oyler replied on Twitter, "I'm not 'bullying' you.") In the fallout, the Times put Roman's column on hold. Later that year, she left the paper. "I still have not seen a successful story of a woman getting dragged to hell in the way that I was and then coming back publicly and being able to talk," she told The New Yorker's Lauren Collins, for a profile snidely titled "Alison Roman Just Can't Help Herself."
You can read the rest of "Transcending Toxic Femininity" here.
Have a great Sunday, everyone. See you next week!
Lean Out with Tara Henley is a reader-supported publication. To receive new posts and support my work, consider becoming a free or paid subscriber.