Share this post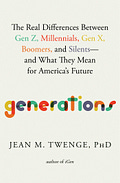 Generations
tarahenley.substack.com
Generations
My conversation with San Diego State professor and author Jean Twenge
With the rising tensions in our society has come increased conflict, including generational conflict. There are now lots of stereotypes being thrown around about existing generations, from Boomers to Millennials.
But my guest on today's program prefers to deal in facts. Her latest book analyses data from 39 million people, debunking dominant ideas about generational cohorts — and, in a departure from the consensus within her field, points to technology rather than major current events as the main driver of generational differences.
Jean Twenge is a professor of psychology at San Diego State University. Her new book is Generations: The Real Differences Between Gen Z, Millennials, Gen X, Boomers, and Silents — and What They Mean for America's Future.
Jean Twenge is my guest, today on Lean Out. Transcript to come for paid subscribers.
Lean Out with Tara Henley is a reader-supported publication. To receive new posts and support my work, consider becoming a free or paid subscriber.