Share this post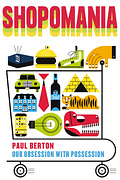 Shopomania
tarahenley.substack.com
Shopomania
My conversation with Canadian newspaper editor and author Paul Berton
On the Lean Out podcast, we spend a lot of time delving into the big problems of our age. But one thing we haven't paid enough attention to is the forces that distract us all from solving these problems.
What are the bread and circuses of our time?
My guest on the podcast today argues that we are in thrall to shopping — and that this shapes our culture in profound ways.
Paul Berton is an award-winning Canadian journalist and the editor-in-chief of The Hamilton Spectator. His new book is Shopomania: Our Obsession With Possession.
Paul Berton is my guest, today on Lean Out. Transcript to come tomorrow for paid subscribers.
Lean Out with Tara Henley is a reader-supported publication. To receive new posts and support my work, consider becoming a free or paid subscriber.