Discover more from Lean Out with Tara Henley
A current affairs newsletter, focusing on heterodox writers and thinkers from around the world.
Weekend reads: Hell in a hand basket
The Titanic is sinking, friends, let's get that string quartet tuned up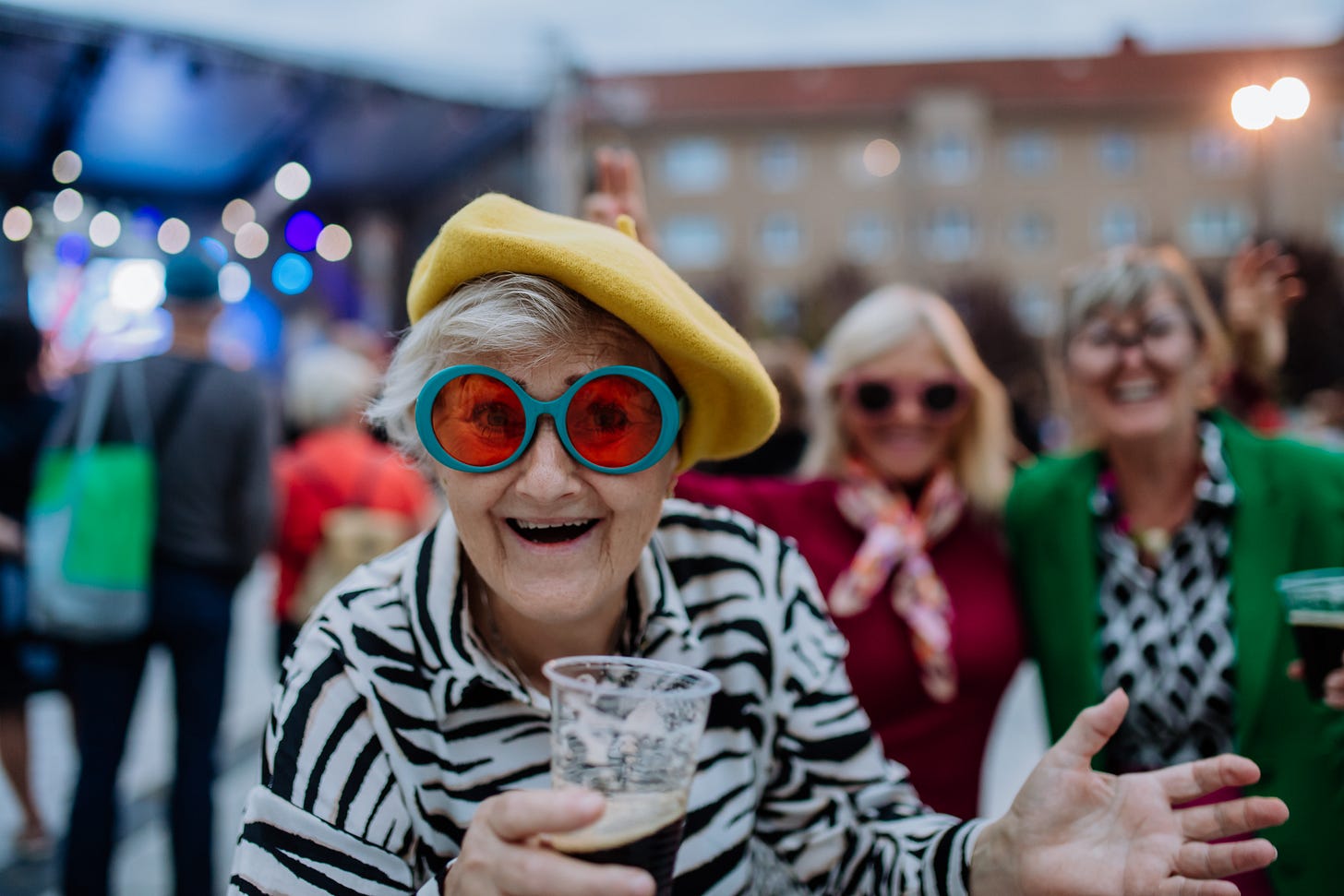 Welcome to the weekend, Lean Out readers. Today's missive will be short, as I am feeling worn out, weary — and, truth be told, slightly loopy. (As evidenced by the photo above, which captures my current mood.)
I'll admit it, the news these days is absolutely dreadful. There's any number of horrific stories keeping me up at night, and I've been feeling more than a little bogged down. But it's nothing that a cerebral debate over the future of liberalism can't fix. That's right, dear readers, my solution to the malaise that's overtaken me is to get dressed up, slap on some red lipstick, and toast our failing civilization with fellow beleaguered journalists at tonight's annual Munk Debate in Toronto.
I wouldn't want to leave you without reading material, so here's a whistle-stop tour of updates on some of Lean Out's main themes.
On liberalism
As mentioned, the Munk Debate takes place in Toronto tonight, and the resolution is: "Liberalism gets the big questions right." British MP Jacob Rees-Mogg and American columnist George F. Will will be squaring off against UK journalist Ash Sarkar and Compact Magazine founder (and Lean Out guest) Sohrab Ahmari. The debate is sold out, but you can listen to this excellent preview podcast for free, or else livestream the debate for a small fee, by scrolling down here. (While we're talking Munk Debates, you can read my coverage of last year's event on the mainstream media here, and listen to my interview with moderator Rudyard Griffiths here).
On the media
Some of you have reached out to me this past week, asking for my thoughts on the CBC's takedown of Buffy Sainte-Marie. (If you missed Canada's latest ancestry scandal, you can read it here, or watch it here.) I'm still formulating my reaction to this reporting, but I think one of the major questions that it raises is whether such an intrusive investigation can be justified in terms of value to the public.
In general, when the media considers invading an individual's privacy — even a very famous individual — it must weigh this intrusion against the public interest. For instance, here is guidance from CBC's Journalistic Standards and Practices on revealing private correspondence (which has relevance here, in that the CBC aired a private letter the singer had sent to her brother, alleging sexual abuse).
We do not reveal the content of private correspondence not addressed to us (e-mails, letters or voice mail) unless it is in the public interest to publish the information. We must make every effort to verify that the information is accurate. We allow the person or institution affected to comment on the information we propose to reveal.

Where there may be legal considerations, journalists should seek legal advice.

A decision to publish private correspondence requires authorization from the Director.
When it comes to this story, I'm not certain that the public interest case is compelling. I'm open to being convinced otherwise, but I don't really see how exposing an 82-year-old woman to this level of press scrutiny serves the public in any concrete way. (Feel free to weigh in in the comments section.)
On the modern male
I'm currently reading Troubled: A Memoir of Foster Care, Family, and Social Class, by Lean Out guest Rob Henderson, and am excited to have him back on the podcast again in the new year to discuss it.
Henderson recently delivered a fascinating public lecture, "Understanding the Young Male Syndrome," for the University of Richmond's speaker series, Masculinity in a Changing World. You can watch it here, or, if you prefer to read it, Rob has published the full transcript at his Substack.
While we're on the topic of men, I interviewed the UK feminist Caitlin Moran about her new book, What About Men?, for the Globe and Mail. You can read that Q&A here.
On the current climate in Canada
Lean Out guest host Aaron Pete recently invited me on his Bigger Than Me podcast, for a conversation on everything from the housing crisis to political polarization and public trust. You can watch the full interview here, or else check out this short preview clip, focusing on my criticisms of the Online News Act.
On free speech
Lean Out guest Jacob Mchangama has a piece at Persuasion this week, making the case that "Free Speech Defenders Must Be Consistent." Jonathan Chait at New York Magazine also addressed the issue, in an essay titled "Why Haven't the Free-Speech Libs Denounced This? (They Have)" And here is Nate Silver on free speech as well: "Free speech is in trouble."
If you missed last weekend's Q&A with Philip Slayton on this, you can find it here.
And stay tuned, former ACLU president Nadine Strossen will return to the Lean Out podcast in coming weeks.
In the meantime, I'm off to unwind with a nice, relaxing night of pizza and politics.
Lean Out with Tara Henley is a reader-supported publication. To receive new posts and support my work, consider becoming a free or paid subscriber.