Discover more from Lean Out with Tara Henley
A current affairs newsletter, focusing on heterodox writers and thinkers from around the world.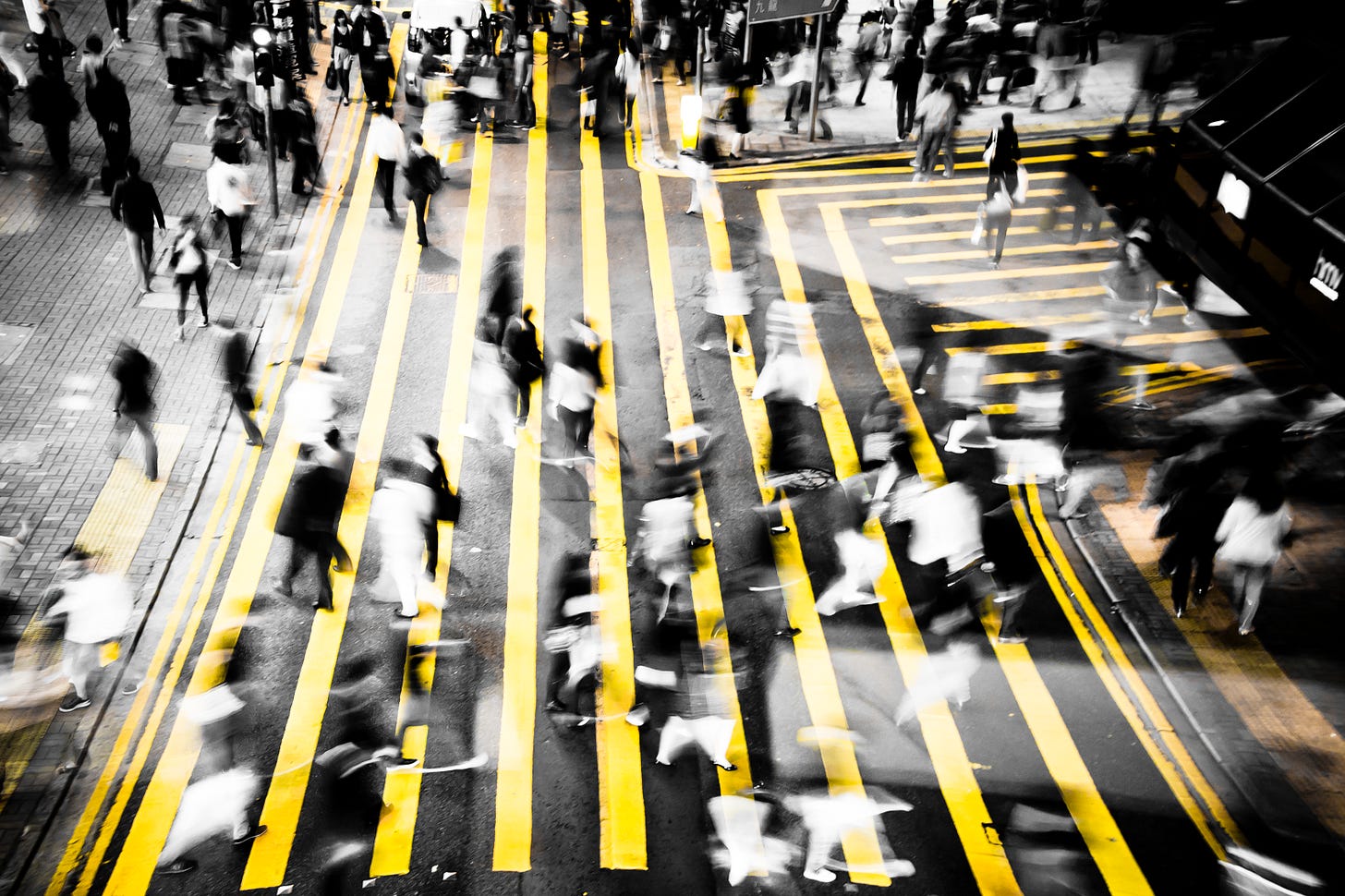 It is a cold and crisp Sunday here in Toronto, and I'm about to head south to celebrate American Thanksgiving. I'll be off for the week (and hopefully unplugged), but you will still get a podcast and a transcript — and producer extraordinaire Harrison Lowman will be taking the reins for next weekend's newsletter.
I have to say: A short break from the news is most welcome.
It is essential, I have discovered, to take time away. To read energizing books on how we can come together. To laugh around a dinner table. To linger over strong coffees. To wander the streets of small towns and talk to strangers. To realize, anew and anew, that we are not as divided as it often seems.
People ask me how I handle the relentlessly awful news cycle. That is how.
I remain deeply disturbed by the ugly antisemitism that we're seeing in Toronto and elsewhere (which the excellent Nadine Strossen touched on on the podcast this week). The targeting of Jewish-owned businesses, the bomb threat to a Jewish school, the assault of a Jewish woman at a protest, the vandalism, and more — this is an extremely worrying trend.
I have said this before, and I'll say it again: This is a wake-up call for the left.
I'm also concerned about the immense suffering we're seeing in Gaza. As well as the need to defend freedom of expression in times of crisis, including pro-Palestinian sentiment. It is possible, of course, to be critical of the Israeli government, and sympathetic to Palestinian civilians, without for a second condoning the horrific Hamas attacks of October 7, or being pro-violence or pro-terrorism, or dismissing the profound grief Jewish people are currently experiencing. Philip Slayton — author of Antisemitism and past president of PEN Canada — stressed the need to make such distinctions recently at Lean Out.
On a related note, George Packer, one of the authors of the famed Harper's letter, has penned a powerful new essay in The Atlantic this week, that highlights a New York Jewish cultural centre's recent postponement of an event with novelist Viet Thanh Nguyen, after he signed an open letter in the London Review of Books, along with 750 artists and writers, on the Israel/Gaza war. Packer writes:
The cancellation was part of a wave of suppressed speech following the October 7 Hamas attack on Israel: Pro-Palestinian student groups have been banned, speakers disinvited, and employees fired; a ceremony honoring a Palestinian writer was canceled and an Islamic art exhibit withdrawn; the only Palestinian American member of Congress was censured. All of these acts are hostile to the values of free expression in a liberal democracy. So are boycotting Israeli individuals and institutions and ripping down pictures of Israeli hostages. Nguyen should have been heard, questioned, and challenged — not canceled.
Packer then moves on to a more philosophical question that many, including myself, are currently grappling with. And that is ideological capture in the arts:
It seems natural for creative people to speak out at a time of crisis. We look to them for words and images that provide clarity and inspiration and consolation — for truth. But in practice this expectation turns out to be perverse. Instead of bringing their special talents — imagination, an ability to sustain competing thoughts and articulate them with nuance, a knowledge of complex history, a sense of tragedy and common humanity — to a subject like Israel and Palestine, writers and artists are more likely to abandon their qualifications at the threshold of a political controversy. Upon entering, they begin speaking in a characteristic tone of outraged conscience. They indulge in rhetorical excesses and resort to euphemisms and omissions that amount to outright lies. They use the passive voice and abstract language to gloss over the killing of children on one side or the other. They ignore any facts that taint their purity of belief. They squarely refuse to face the trade-offs and dirty compromises that politics requires. They avoid the devilish question that a sense of responsibility should require them to ask: What would I do if I had real power? This question always has a dissatisfying, even tragic, answer — so it disappears in the glare of moral certainty.

In taking political action, writers and artists are likelier to betray than fulfill the demands of their vocation.
It's something I've been meditating on for weeks now: What is the role of the artist?
As Packer notes, Chimamanda Ngozi Adichie has called literature "the messy stories of our humanity." This is an apt phrase, because art disturbs. Art unsettles. Art is about living with profound uncertainty, with ambiguities and tensions and contradictions. Art is the opposite of moral certainty.
Activism, however, requires picking a side. It necessitates a rejection of this level of complexity, in order to advance a specific agenda.
As it happens, all of this applies to the world of journalism, too — another focal point for Lean Out.
Jay Caspian Kang, in a new essay, "Journalistic Independence is not a Human-Resources Exercise," addresses the ongoing debate over activism within media, and arrives at a different conclusion than I do:
Hearst Magazines also made a truly draconian move to crack down on any political speech expressed by its employees on social media, including "liking" other people's posts.

Within the news media, these types of censures are seen, by the people and institutions who perform them, as a necessary bit of housekeeping — a way of projecting a type of objectivity. (Some of this is understandable: large newsrooms with reporters spread across the globe have legitimate concerns about how political statements from their employees might cause difficulties for their colleagues.) But the disciplinary actions are best understood as acts of desperation from institutions that have lost much of their power to shape public opinion. Strong media organizations confident in the righteousness of their mission do not need to offer up their employees as sacrifices to an angry mob. They do not need to hide behind weak, semantic rules against "political" statements that restrict and silence their own reporters, yet do little to convince outside observers that they are truly impartial. Journalistic independence — the production of factual accounts free from outside influence — cannot be a public-relations or human-resources exercise, nor can it be maintained through pledges to stop tweeting about "politics."
Here's the thing, though: Journalists are not activists. Our job is a fundamentally different one. Our job is not to shape social change. Our job is to try, to the best of our ability, to gather the facts, and reflect that reality back to the public. So that the public can decide what change, if any, it wants to enact.
This is how the public knows it can trust us: Because we have no agenda.
Journalism's allegiance is to the truth, not to a specific political agenda. And the truth, more often than not, is profoundly messy.
The task of the journalist, as with the artist, is to learn to cope with that complexity.
---
Some other notes from the week before I get on the road.
Media critic Margaret Sullivan — whose book, Newsroom Confidential, I recently reviewed — has a new piece in The Guardian, urging the press to do a better job of stressing how dangerous Trump is for democracy. Matt Taibbi has a hilarious response at Racket News, "Expert: Media Insufficiently Hysterical on Subject of Trump."
Reporter David Zweig has an interesting read on media ethics, as it relates to the Israel/Gaza war, and also Covid, "Conflating Credentials With Moral Authority."
Lean Out guest Richard Reeves has launched the American Institute for Boys and Men. It has published a fascinating new essay from Jonathan Haidt, "Why I'm increasingly worried about boys, too."
Lastly, Lean Out guest Anna Louie Sussman made waves this past week, with an essay on the state of marriage, for The New York Times: "Why Aren't More People Getting Married? Ask Women What Dating Is Like." Lean Out guest Phoebe Maltz Bovy, who is working on a book about female heterosexuality, penned a response piece here.
To my American readers, we at Lean Out wish you a Happy Thanksgiving. Hopefully you'll be able to enjoy some down time, and, with any luck, a little holiday cheer.
I'm off to eat fried turkey, cornbread dressing and buttermilk pie. See you next week!
Lean Out with Tara Henley is a reader-supported publication. To receive new posts and support my work, consider becoming a free or paid subscriber.